I love Halloween. It is the beginning of Decorating Season!! Unfortunately I broke my foot and can't make it up and down stairs with boxes so... Halloween decor might be contained to a few pumpkins and ghouls!
But I am making this dip.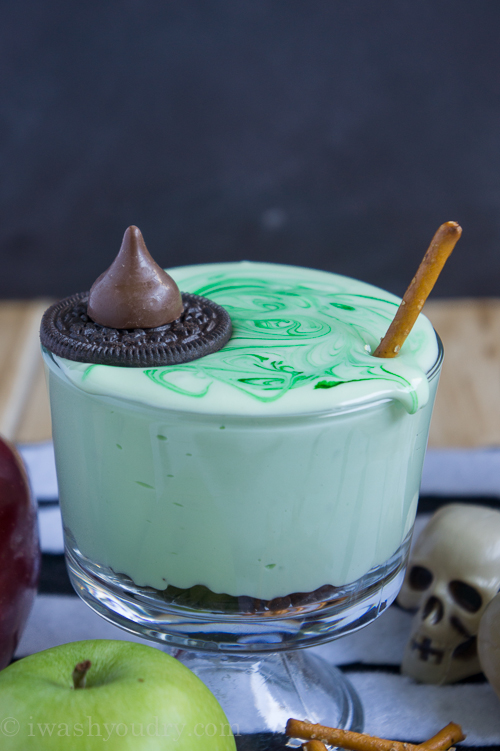 http://www.iwashyoudry.com/2013/10/25/melted-witch-chocolate-chip-cream-cheese-fruit-dip/?utm_source=feedburner&utm_medium=feed&utm_campaign=Feed:+IWashYouDry+%28I+Wash...+You+Dry%29
I found it on I wash and you dry blog.
Ingredients
8 oz cream cheese, softened
1/2 cup sweetened condensed milk
1 cup powdered sugar
1 tsp vanilla extract
6 drops green food coloring (more if desired)
1/4 cup mini chocolate chips
Oreo cookie and Hershey's Kiss for decoration
Fruit/Graham Crackers/Pretzels for dipping
Instructions
In a large bowl beat the cream cheese with a mixer until light and fluffy (no longer clumpy), then slowly add the sweetened condensed milk. Beat until smooth. Add the powdered sugar and vanilla, mix until blended.
Drop in 5-6 drops of green food coloring and mix until fully incorporated. Fold in the mini chocolate chips.
Pour into serving dish. If desired, drop a couple dots of green food coloring on top and use a toothpick to swirl around to give it that "melted witch" look.
Place half of an Oreo cookie on top, then top that with the Hershey's Kiss so it looks like a witches hat. Serve with fruit slices, graham crackers and/or pretzels. Store in an air tight container in the fridge. Enjoy!