I wanted to tell you what I have been doing all week. I have been looming with my granddaughters and grandson. It is fun and fast.
I bought this loom first: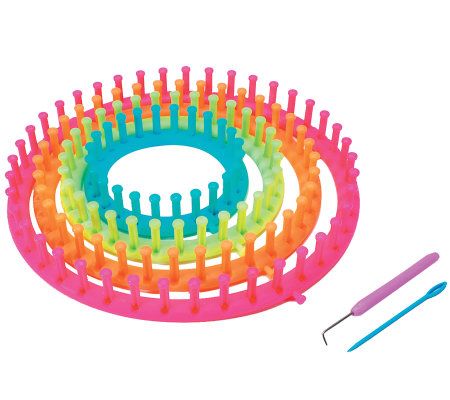 But I felt restricted by set pegs so, then I bought Martha Stewart's Looms and Knit and Weave set because you can reset the pegs.
Project Patterns
Includes instructions for a hat, scarf, and blanket.
30+ configurations:
Weaving loom - makes woven squares 1.5in to 13.5in wide and rectangles 1.5 in to 25.5in wide.
Round loom - makes circular knit pieces 13.5in to 14in in circumference.
Rake loom - makes flat knit pieces 4in to 37in wide.
Rosette loom - makes a rosette approximately 2in in diameter.
Knit & Weave Loom Knit includes:
- (2) 36-hole straight pieces
- (2) 28-hole semi-circle pieces
- (4) 12-hole straight pieces
- (2) 10-hole U-shaped pieces
- (4) 6-hole straight pieces
- (4) 6-hole corner pieces
- 206 small-gauge pegs
- 104 large-gauge pegs
- knitting tool
- weaving tool
-
crochet hook
- small and large yarn needles
Loom Size / Hat Size
Size Chart is based on Averages. The information is only a recommendation. Please use your own judgement in the final decision.

Note: Rows are based on 1 strand of thick yarn or 2 strands of light or medium weight yarn, e-Wrap Stitch and No Brim.
Chart Update: 10/2014
For a Folded Brim you may need 6 - 18 rows depending on the recipient. Note that to make the brim you fold the knitting in half.

1 inch = 2.54 centimeters

Hat Recipient
Avg Head
Circumference
Loom Size
Hat Length
Number
of Rows
AG Doll
11 in / 27 cm
Sm 24 Pegs
4 in
20
Preemie
12 in / 30 cm
Sm 24 Pegs
4 - 5 in
20-25
Newborn
14 in / 36 cm
Sm 24 Pegs
5 - 6 1/2 in
25-30
Baby - 1 yr.
18 in / 46 cm
Md 31 Pegs
7 in
25-30
Toddler
21 in / 53 cm
Lrg 36 Pegs
7 in
25-30
Tweens & Teens
22 in / 56 cm
Lrg 36 Pegs
8 in
30-34
Women & Lean Men
22 in / 56 cm
Lrg 36 Pegs
8 - 9 in
32-40
Lrg Women & Men
24 in / 61 cm
X-Lrg 41 Pegs
9 -10 in
38-45